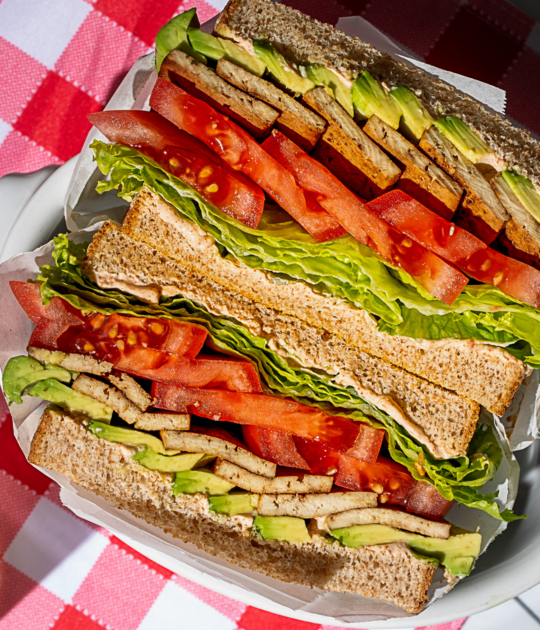 TLT Sandwich (Tofu/Lettuce/Tomato)
This decadent, vegetarian sandwich is the little cousin of the famous BLT (bacon-lettuce-tomato) sandwich. Once the marinade has been absorbed by the tofu slices, the TLT is ready in just a few minutes. Then, feel free to grill it in a panini press! Bon Matin 100% Whole Wheat Bread contains 4 g of fibre per serving (2 slices), making it a wise choice to increase your fibre intake. This Quebec company also offers a line of breads that contain no added fat or sugar.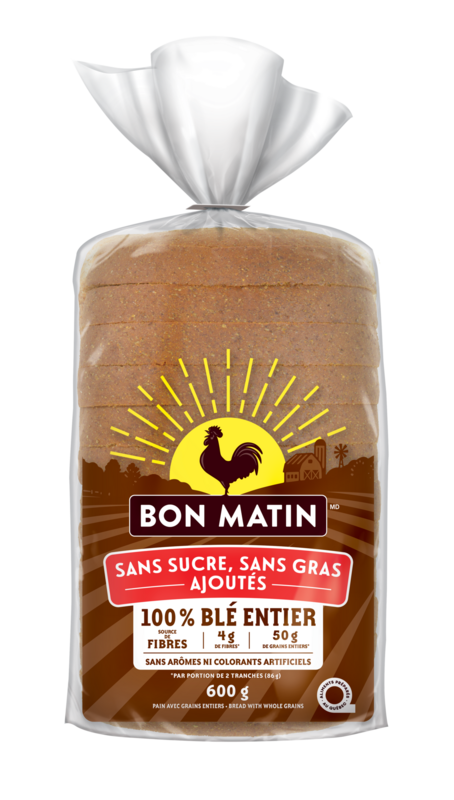 MADE WITH
Bon Matin® No Sugar, No Fat Added 100% Whole Wheat Bread
Ingredients
8 slices Bon Matin™ No Fat, No Sugar Added 100% Whole Wheat Bread
30 mL (2 tbsp) tamari sauce
15 mL (1 tbsp) smoked paprika
A few drops of liquid smoke
1 block (400 g) firm tofu
15 mL (1 tbsp) canola oil
30 mL (2 tbsp) mayonnaise
30 mL (2 tbsp) plain Greek yogurt
30 to 45 mL (2 to 3 tbsp) spicy sauce of your choice
15 mL (1 tbsp) paprika
8 leaves of Boston or romaine lettuce
2 to 3 tomatoes, sliced
2 avocados, thinly sliced
Preparation
In a bowl, mix the tamari sauce, smoked paprika and liquid smoke.
Thinly slice the tofu. Pat the tofu slices dry with a paper towel or a clean cloth.
Place the tofu slices in the marinade sauce. Refrigerate for at least 6 hours.
In a large non-stick skillet, cook the tofu slices in canola oil until golden.
Meanwhile, assemble the sandwiches. Start with Bon Matin 100% Whole Wheat Bread, spicy mayonnaise, a few lettuce leaves, a few slices of tomato and avocado, and finally the crispy tofu.
Serve immediately with raw vegetables and a dip.

Hubert's tip: You can use store-bought smoked tofu as a plant-based protein alternative to bacon!