5 original (and healthier) no -sandwich fillings to entertain during the holidays!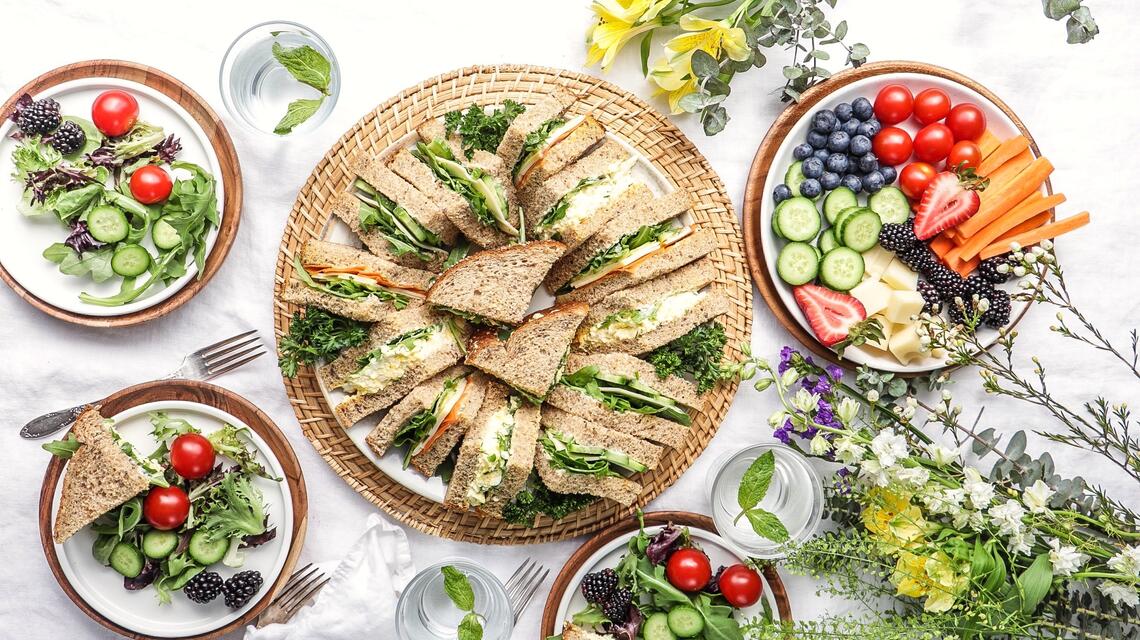 The holiday season is upon us and opens the way to office parties and family reunions. Christmas buffets and small no-crust sandwiches will probably be in the spotlight! This year, to bring a different touch, vary the fillings of your sandwiches. Although the classic chicken, ham and egg sandwiches are excellent and loved by all, it is easy to change up these rather traditional recipes with a little creativity. Here are five delicious no-crust sandwich fillings to try at your next party!
Although crustless sandwiches can be made with any Bon Matin® bread, the best – and most traditional – are those made with white bread! Then use Bon Matin® No Sugar, No Fat Added White Bread with Whole Grains, for its soft white crumb. This option contributes to the desired texture that brings back so many memories, in addition to offering interesting nutritional values.
If you dare, use two different slices of bread! You could also combine white bread with Bon Matin® No Sugar, No Fat Added 100% Whole Wheat bread, which will give an interesting color contrast. Some will even use a cookie cutter to create cute designs in their sandwiches.
Use cucumber as the main ingredient
Cucumber sandwiches – a UK teatime classic – are sure to add a bit of freshness and lightness to your Christmas buffet. In addition, they are chic and colorful. To make them, you just have to spread cream cheese previously whipped with chives on your slices of bread and add a few beautiful ribbons of cucumber.
Opt for the homemade tofu filling
Without a doubt, the chicken filling is one of the greatest classics when it comes to small crustless sandwiches. That said, it is totally possible to replace this classic filling with an original option: tofu spread! You can easily find some in the dips section of the supermarket. For an even more interesting texture, add crumbled tofu with your fingers. In addition to being different, this option is tasty and vegetable. For a boost of color and antioxidants, add some dried cranberries too!
Discover chickpeas in a whole new way
Chickpeas are often used to create good legume salads or to cook hummus. That said, it is totally possible to create a chickpea salad by mashing them with a potato masher! Add your favorite vegetables and herbs to add flavor and texture to your recipe. Also, add the required amount of Greek yogurt or mayonnaise – or a bit of both! – to your spread until it is creamy and cohesive.
Colorful sandwiches with hummus
Hummus is the perfect topping to add to no-crust sandwiches! Besides, there are so many flavors of hummus, it's easy to create a pretty and colorful presentation! Try beet, avocado, carrot or caramelized onion hummus! Also, to give a little crunch to your sandwiches, add thin slices of vegetables. A combination of carrot or cucumber ribbons, tomato slices, or even apple slices, made using a mandolin, are great options! Plus, you could also add veggie pâté to this recipe. Indeed, the latter goes perfectly with hummus!
Prepare fancy smoked salmon sandwiches
Smoked salmon is a holiday favorite – try it in a no-crust sandwich version! Topped with cream cheese, arugula, cucumber, red onion (or pickled red onions), capers and a few sprigs of dill, these sandwiches are sure to stand out!
In short, each of these toppings will bring a touch of originality to your festive table! Quick and easy to prepare, volunteer to cook some for potluck-type receptions this year! If there are any left, you can always eat them the next day at lunchtime!
Recipes to Discover