Bon Matin® Smooth Multigrain Bread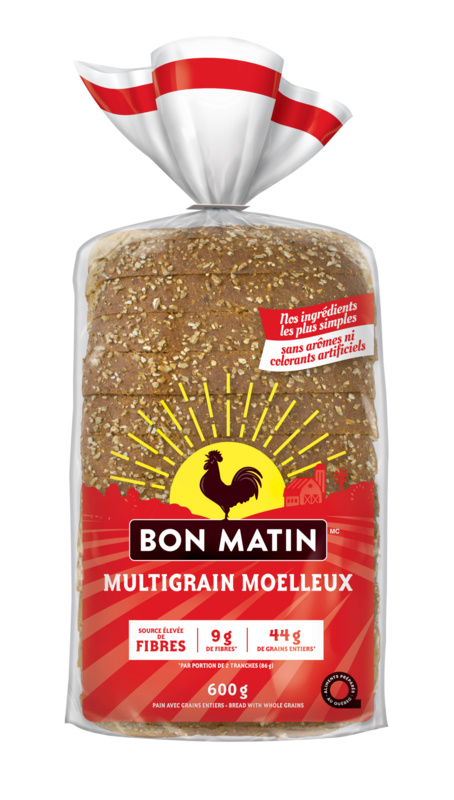 High source of Fibre
+
9 g of Fibre
* Per serving of 2 slices
Bon Matin® Smooth Multigrain Bread is a delicious choice any time of the day. A wholesome bread that doesn't compromise on taste, it contains 44g of whole grains per serving and is a high source of fibre with 9g per serving. Prepared in Quebec with our simplest ingredients and no artificial flavours or colours, this vegan bread delivers whole grain goodness and great taste in every bite.
Whole grain whole wheat flour including the germ, Water, Grain blend (flaxseeds, rye meal, barley flakes, cracked wheat, cracked red fife wheat), Yeast*, Wheat gluten*, Sugars (fancy and/or blackstrap molasses), Whole black chia seeds, Oat fibre, Cracked wheat Salt Vegetable oil (canola or soybean), Vinegar, Calcium propionate, Soybean lecithin, Sorbic acid. *Order may change.

May contain: Sesame seeds.
Note
Every effort is taken to ensure that the ingredients and nutritional information listed here is accurate, however, data may change from time to time. Please always check the package for the most current information.
Please note some products may not be available in your area. Please check with your local retailer.
Nutrition Facts
(86 g)

4%

3%

32%

2%

15%

5%

8%

13%

17%

10%

16%

10%

12%

14%

11%

53%

50%

*5% or less is a little, 15% or more is a lot