Five ways to switch up your picnic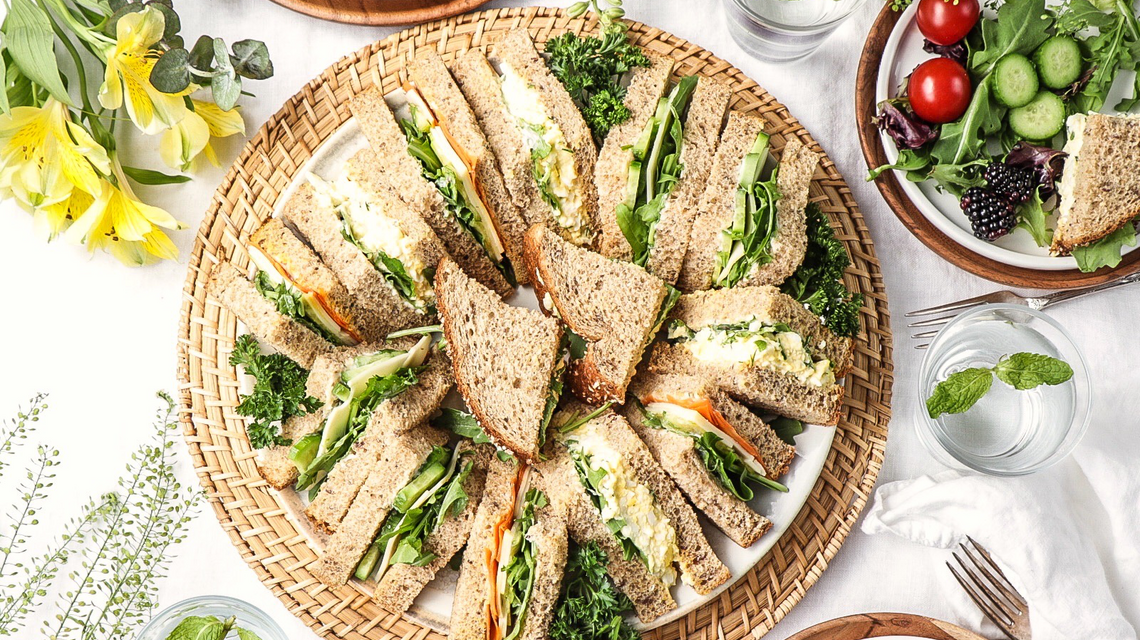 Picnic season is finally back! What's better than sharing a meal with friends or family while enjoying the beautiful weather and gentle summer breeze? Make it even more enjoyable by thinking outside the box and serving your guests trendy ideas and new recipes. After all, you have to make the most of the summer! Here are five wonderful ways to spice up your picnic: 
Step into the world of rolled-up sandwiches
Why do we always choose the same sandwich format when there are so many possibilities? Of course, everyone knows and loves crustless sandwiches cut into triangles. But why not be bold and roll your sandwiches? Nothing could be easier with your trusty rolling pin! Just flatten your bread slices, add toppings (try this chickpea salad) and then roll them up like sushi! Rolled-up sandwiches are delicious with any Bon Matin® bread, but they're especially so with our no fat, no sugar added white bread with whole grains because of its wonderfully soft white crumb. 
Create your very own crunchy bread sticks
Here's an idea that can help if you've run out of crackers in your pantry. Who knew? You can make amazing crackers in no time! Cut a few slices of bread into 1 cm (½ inch) wide strips and roll them up into small sticks. Drizzle them with a bit of oil and sprinkle on your favourite dried herbs, e.g., oregano, basil, thyme. Toast them for a few minutes in the oven or a pan. Serve them with hummus, and it's the perfect snack! Bread gives you a host of vitamins, minerals, and dietary fibre. 
Try these handy little cups at cocktail time
This tip will wow people at your cocktail party. Cut a slice of bread into four square pieces and place them in a small muffin tin. You can flatten the bread against the tin or leave it as is, cut off the crusts or leave them. If you remove the crusts, store them in a freezer bag and put them in the freezer. Use them later to make delicious bread pudding. Bake the cups for a few minutes at 400°F until golden brown. Then, turn them out and let the cups cool before filling them! 
Psst! You can also try this recipe for guacamole with coriander toast triangles. You can make the triangles with Bon Matin® No Fat, No Sugar Added 100% Whole Wheat Bread. 
Make your very own cheese rolls
These little wonders are just as delicious hot or cold. To make them, cover a slice of bread with ricotta cheese and spinach mix (or other spreadable cheese of your choice) and roll it crosswise. Then, cut them into five or six slices and toast them in an oiled non-stick pan for a few minutes. 
Make a refreshing dessert
No one turns down a refreshingly fruity dessert on a hot summer day. Start by sprinkling some brown sugar on a slice of bread and then toast it. Once golden brown, cut it through the centre to make two equal rectangles. When you're ready to serve, top the first piece of toast with vanilla pudding or fruit-flavoured yogurt, then top with fresh fruit. Next, put the other piece of bread on top to create a dessert as crunchy as a millefeuille! Finally, sprinkle some powdered sugar on top, and you're done! Bread is an excellent alternative to white cakes, puff pastries or cookies as all of these contain a lot more sugar or fat. 
Have fun concocting tasty and nutritious recipes with a wonderful ingredient list. 
 
Recipes to Discover