Find out more about Hubert Cormier, Bon Matin® spokesperson and PhD in nutrition
What led you to getting a PhD in nutrition?
I was always fascinated by the world of food even as a child. My parents let me cook very young—mostly baking—but it was a great introduction to cooking. I've always loved going to the grocery store. It isn't a chore for me! It's the opposite, it's something that makes me feel good. I could spend hours there discovering what's new. Plus, I like to think of it as a "cultural" activity. When I travel, I always go to a local grocery store to discover new products. Food has always interested me. However, the connection to health came later in CEGEP. Understanding how food and everything surrounding eating can affect our health is simply fascinating. I went into nutrition, where I was able to explore different areas, including marketing and communication. Since I have a strong entrepreneurial side, I wanted to find my lane and a career in the media was an obvious choice. After my bachelor's in nutrition, I enrolled in a master's program to sate my scientific curiosity. My project was on omega-3s and was pretty ambitious. So ambitious that it literally turned my master's into a PhD! Today, I consider myself lucky to be able to make a living from all my passions. 
How would you describe yourself in 5 words?
Passionate – curious – foodie – creative – hardworking 

Why did you choose to be a spokesperson for Bon Matin®?
Bon Matin bread was an everyday staple in my life for years, long before I became a spokesperson. It's also the brand of bread that my friends and family eat, and I love their product variety. My favourite? Hard to say, but I always have Bon Matin La mie de l'artisan breads in my bread box ready to go so I can make decadent grilled cheeses!
What are the principles of a balanced diet?
A balanced diet, for me, is a diet with no restrictions, where foods you enjoy are part of the equation. However, it doesn't mean eating anything, anytime. All you need to understand is that there are everyday foods (like fruits, vegetables, whole grain foods like Bon Matin breads, etc.), occasional foods and exceptional foods. 
What's your favourite recipe to make with Bon Matin®breads?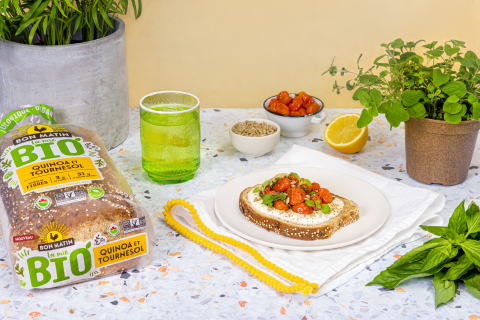 If you could live anywhere tomorrow, where would you go?
I just came back from California, and I have to admit that I fell in love with San Francisco. I like everything about it: the climate, how fresh the produce is, proximity to other beautiful places that are just as fun to explore, the wine... and all the Mexican food!
At a farmers' market, what do you grab first?
Beets. I love them because they add so much colour to salads. In markets, you can also get your hands on different varieties, and you can directly talk to the producers.
What's your favourite vegetable?
I love cauliflower and add it to everything: raw, steamed, grilled, fried, riced, in pizza crusts.
Which food do you think cooks the best?
All of them! All you need is some cooking skills. Even after having published many cookbooks, I still enjoy learning and discovering new cooking techniques. I regularly take cooking classes (even when travelling) and I like to step out of my comfort zone.
Recipes to Discover