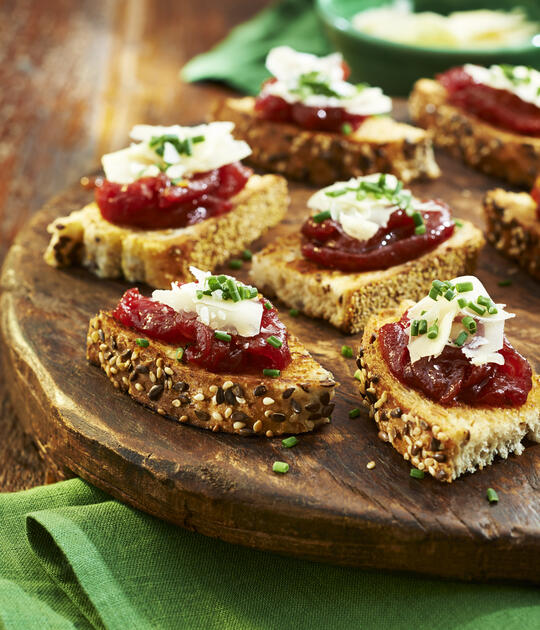 Crostinis with Tomato and Maple Spread
A great idea for your holiday receptions or any occasion!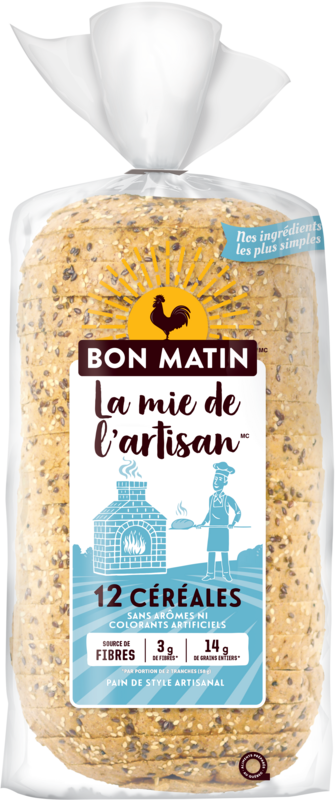 MADE WITH
Bon Matin® La mie de l'artisan™ 12 Grain Bread
Ingredients
4 slices Bon Matin™ La mie de l'artisan™ 12 Grain Bread
1 kg (2 lbs) of fresh Italian tomatoes
1 1/2 cups (375 mL) of maple syrup
Juice of 1 lemon
2 tbsp (30 mL) of olive oil
Perron aged Cheddar cheese (4 years) shavings, to taste
Fleur de sel, to taste
2 tbsp (30 mL) of chives, minced
Preparation
Dunk tomatoes in a pot of boiling water for 10 seconds.
Peel them with a knife, cut each in half and remove seeds.
Transfer mix into a cooking pot.
Add lemon juice and maple syrup.
Cook on low heat for an hour, breaking down tomatoes with a wooden spoon.
Remove excess water regularly.
Oil bread slices and grill them on each side.
Cut grilled bread slices into 4 pieces.
Apply tomato spread on crostinis.
Top with cheddar cheese shavings, fleur de sel and chives.
The spread may also be used to add even more flavor to goat cheese croutons.