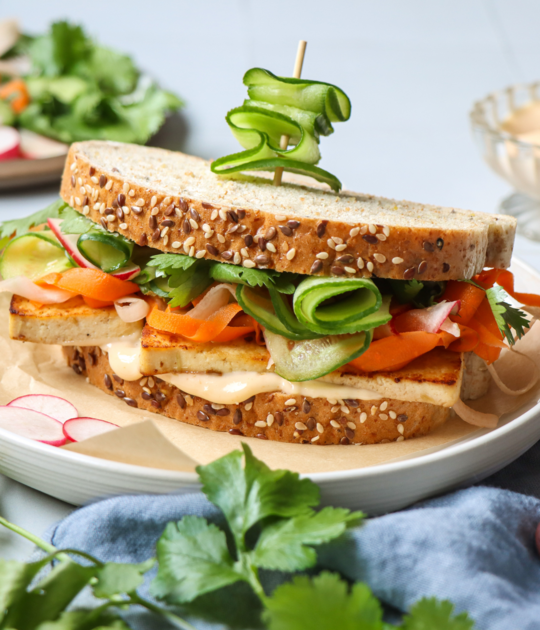 Banh Mi Sandwich with Tofu
Bon Matin🅫 wants you to travel through its recipes! We suggest you go to Vietnam with our Banh Mi with tofu. Did you know that Banh Mi means 'whole wheat bread'? It is the kind of bread that we offer you in this colourful vegetarian recipe bursting with flavour. Have a great trip!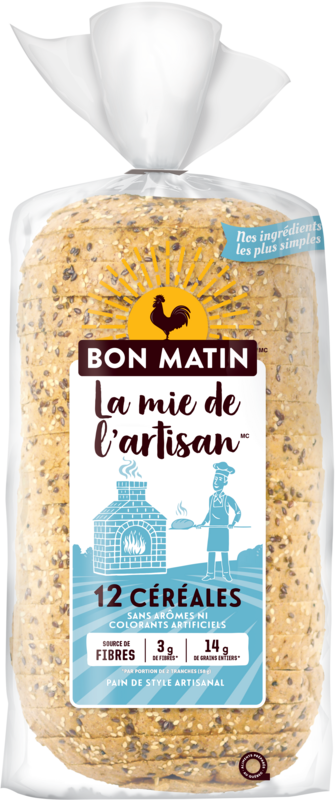 MADE WITH
Bon Matin® La mie de l'artisan™ 12 Grain Bread
Ingredients
Sandwich
8 slices of Bon Matin® La mie de l'Artisan™ 12 Grain bread
2 Lebanese cucumbers, thinly sliced
Fresh coriander leaves
Pickled vegetables
2 tbsp rice vinegar
2 tsp honey
1 cup carrots, julienned
1 cup daikon, julienned
1/4 cup radish, thinly sliced
Pickled tofu
2 tbsp lemongrass, chopped
1 green onion, chopped
1 clove garlic, chopped
1 tbsp fresh ginger, chopped
1 tsp maple syrup
1 tbsp lime juice
1 tbsp soya sauce
3 tbsp vegetable oil
1 tbsp water
1 package of firm tofu, drained and sliced
Spicy mayonnaise
1 tsp sesame oil
1/3 cup mayonnaise
1 tsp grated ginger
1 tsp sriracha sauce
1 tsp honey
Preparation
Pickled vegetables
In a bowl, mix and whisk the vinegar and honey.
In the same bowl, add the carrots, daikon and radishes, then marinate for 30 minutes.



Pickled tofu

In a blender, puree the green onion, lemongrass, ginger, garlic, lime juice, soya sauce, maple syrup, 2 tablespoons of the oil and water.
Pour the marinade into a dish, add the tofu slices, and let marinate for 30 minutes or overnight.
Once the tofu is marinated, in a skillet, heat the remaining oil and cook the tofu slices over medium-high heat until golden brown.



Spicy mayonnaise

In a small bowl, combine all the ingredients of the mayonnaise.
Set aside



Assemble the sandwiches

Brush mayonnaise on bread slices.
Add tofu slices, pickled vegetables, cucumbers, and coriander leaves.
Serve.