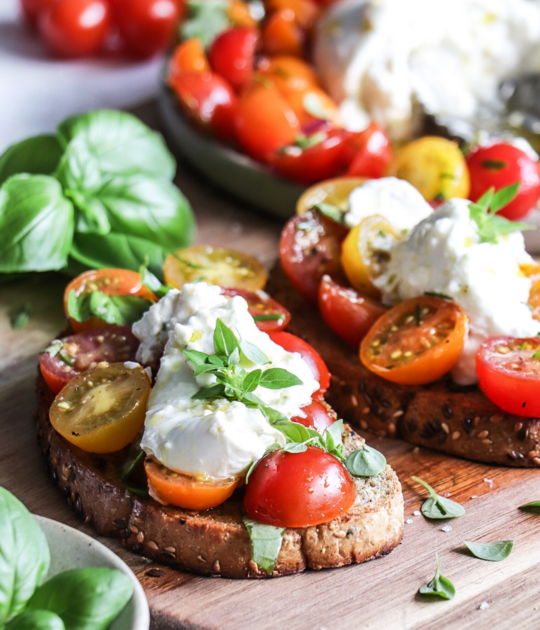 Burrata and Cherry Tomato Salad on Toast
This is our mouthwatering recipe for burrata and cherry tomato salad. It's the perfect topping for a toasted slice of 12 Grains Bon Matin™ La Mie de L'artisan™ bread.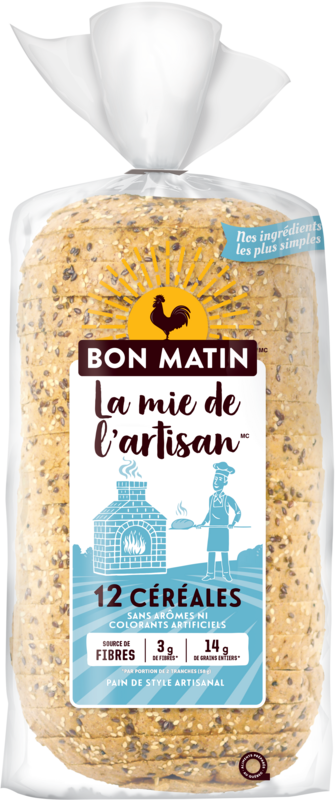 MADE WITH
Bon Matin® La mie de l'artisan™ 12 Grain Bread
Ingredients
6 slices of Bon Matin™ La mie de l'artisan™ 12 Grain Bread
450 g multicoloured cherry tomatoes
1 ball burrata cheese at room temperature
1/4 cup (60 mL) olive oil
Juice of half a lemon
1 clove garlic
1/2 cup fresh basil
1/4 cup minced red onion
1 tbsp (15 mL) Italian herbs
Handful of finely chopped chives
Salt and pepper
Preparation
Preheat the oven to 450°F (250°C).
Brush the bread with oil and sprinkle with Italian herbs.
Toast the bread in the oven for about 10 minutes.
Halve the cherry tomatoes and place in a bowl. Add the oil, garlic, lemon juice, onion, basil, salt and pepper and mix well.
Place the burrata in the middle of a serving plate and spoon the tomato mixture around it. Drizzle with olive oil and garnish with the toasted bread.