Tips for a more healthy sandwich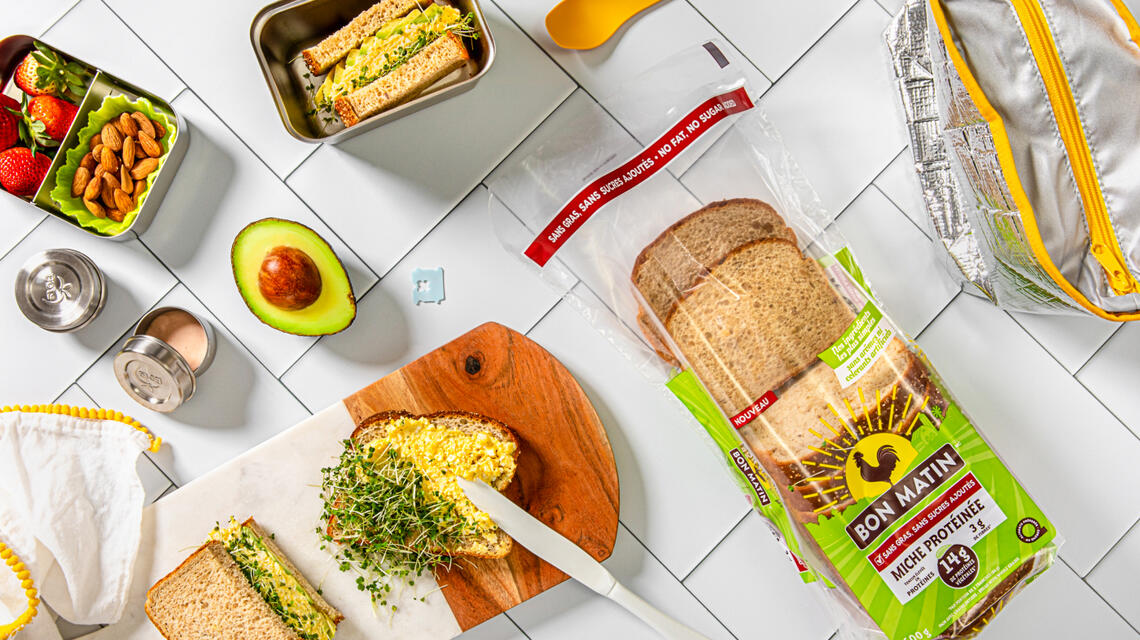 The traditional ham and cheese sandwich isn't exactly the most exciting thing in your lunchbox. However, it's still a staple because most of us don't have a lot of ideas. Forget the routine and try something new.
 
 Take a look at the top suggestions for healthier and more flavourful sandwiches!
Mix it up
Get out of your comfort zone and throw in a slice of grilled smoked tofu, smoked salmon or trout, a serving of homemade veggie pie, or even last night's leftover chicken!
Canned fish (tuna, salmon, mackerel, etc.) is a convenient choice when you're in a hurry. Foodies and gourmets may like the tuna tataki sandwich, a trendy new idea.
The classic egg sandwich is a staple. Try something a bit different to jazz it up!
Add crumbled or silky tofu for more plant-based protein - you'll be surprised! Crush canned legumes coarsely with a fork or potato masher, toss them in a creamy dressing, it's a great egg substitute for a 100% vegan sandwich.
Remember to choose your bread carefully. If your sandwich filling is mostly vegetables, herbs, and greens of any kind, look for a bread that offers more protein. And of course, always choose whole grain breads that contain fibre!
Watch out for those sauces!
Sauces can make a sandwich less nutritious. They tend to be fatty and high in sodium.
Focus on quality and flavour, with interesting products like hummus - traditional or spicy, for example beetroot hummus - guacamole, tzatziki, a bit of salsa or homemade mayonnaise with herbs, fine herbs or a dash of curry powder!
Why not try Greek yogurt, quark or cottage cheese sauce mixed with a little pesto to boost your protein intake?
Bring on the fruits and veggies
Try replacing more conventional vegetables with other options like grated beetroot, radish slices, pickled red onions, cucumber ribbons and thin carrot or daikon sticks. These options give sandwiches that extra crunch!
You can also swap traditional lettuce for a handful of alfalfa sprouts. Alfalfa sprouts add freshness to your meal and have an extremely high concentration of nutrients, especially vitamins. It's a great way to increase and diversify your vegetable consumption.
Get creative with fruit! Slices of strawberries, figs, heirloom tomatoes, mangoes, apples or pears will lend a touch of sweetness that balances the flavours beautifully.
Cheese
Say goodbye to bland yellow sliced cheese Switch to low-fat soft cheese on Monday and goat cheese the next day! Finish the week with vegan cashew-based faux cheese.
There are endless possibilities that can substitute for high-fat, high-sodium cheeses. Some cheeses, such as crumbled feta, can be added directly to your sauce.
Also, cheese is high in protein, which makes it a good substitute. Newly introduced grilled cheese slices can make a veggie burger or grilled cheese sandwich in a jiffy.
The perfect nutritious sandwich will be high in protein, packed with fresh vegetables and covered with a sauce that complements the flavours.
Putting it together is easy! All you have to do is follow Canada's new Food Guide: ½ fruits and vegetables, ¼ protein and ¼ whole grains.
Experiment with possibilities and keep track of your preferences so you can easily recreate your favourites when you feel uninspired.
Recipes to Discover