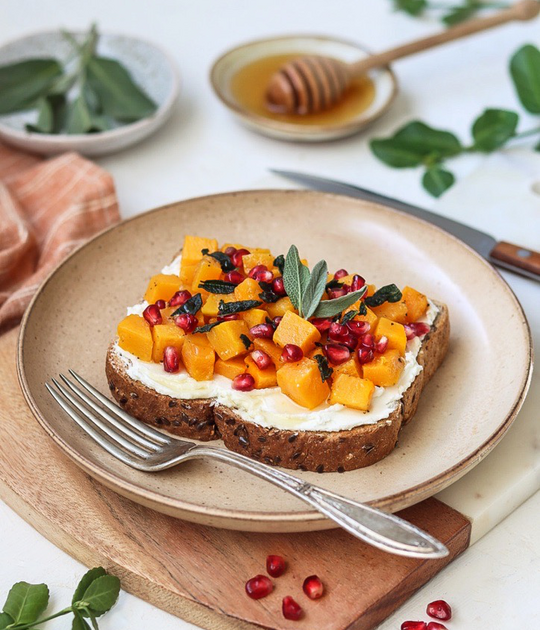 Toast with roasted squash and goat cheese
This toast is just as delicious as it is colourful! The flavours of goat cheese, squash, pomegranate, sage and honey balance each other perfectly. Plus, Bon Matin® No Sugar, No Fat Added Seed Lovers Bread provides 7 g of fibre and 46 g of whole grains per 2 slices (86 g) serving. A happy marriage to give you all the energy you need!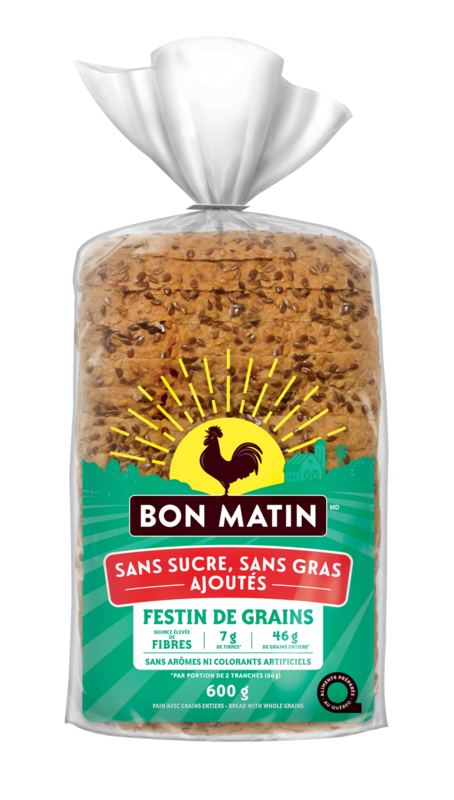 MADE WITH
Bon Matin® No Sugar, No Fat Added Seed Lovers Bread
Ingredients
4 slices of Bon Matin® no sugar, no fat added SeedLovers bread
1 butternut squash
4 tbsp. olive oil
1/4 tsp. ground coriander
1/4 tsp. cinnamon
1 pinch of salt
1 pinch of pepper
4 fresh sage leaves
1/3 cup pomegranate seeds
1 tsp. honey
1 log of goat cheese 4 oz
Preparation
Preheat oven to 375°F (190°C).
Cut the squash into small cubes and put them in a bowl.
In the same bowl, add 2 tbsp. tablespoon oil, cilantro, cinnamon, salt and pepper. To mix together.
Place the mixture on a baking sheet lined with parchment paper and roast in the oven for 20 to 25 minutes.
Meanwhile, fry the sage leaves in a small skillet with the remaining oil and cook until crisp, about 3 minutes.
Remove the sage from the pan and place it on a paper towel.
In the same skillet, toast each side of the bread slices.
Spread the slices of bread with goat cheese and garnish with the squash pieces, pomegranate seeds and a honey coulis. Crumble the sage on top.