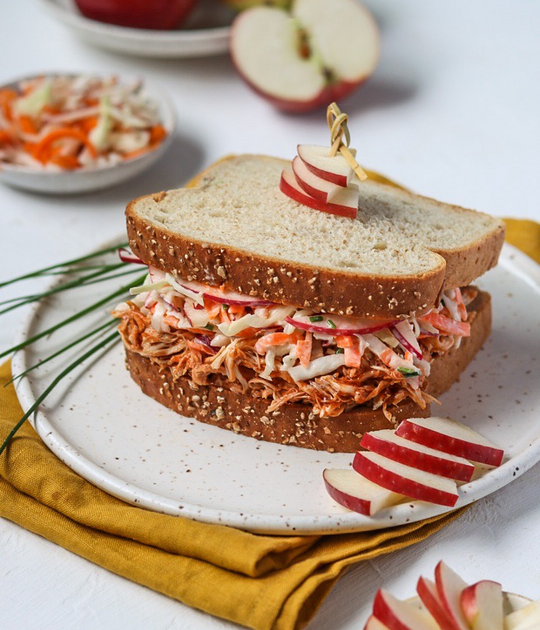 Pulled Chicken and Apple Slaw Sandwich
Apple season is in full swing and apple recipes are in the spotlight. After a great day outdoors picking apples or hiking, it's important to eat well and replenish your energy reserves. To do so, a sandwich is ideal, as in this recipe for a pulled chicken sandwich topped with a refreshing coleslaw and apple salad. However, it must provide enough protein, which is why we use the Bon Matin® protein loaf with no sugar or added fat and with 14 g of vegetable protein per serving of 2 slices (86 g). Pulled chicken is also another excellent choice because chicken is a lean meat. And when you want to recover well after exertion or physical activity or after performing active tasks, you must turn to a meal that's rich in carbohydrates and proteins, while low in fat. The BBQ sauce in this sandwich replaces sauces and mayonnaise that are often too high in fat. Finally, adding apples to the coleslaw gives the recipe a sweet and fun twist, while adding carbohydrates. For this recipe, we prefer Cortland apples because their flesh doesn't turn brown once the apple is cut. This way, the coleslaw retains a beautiful colour, even if it's prepared in advance!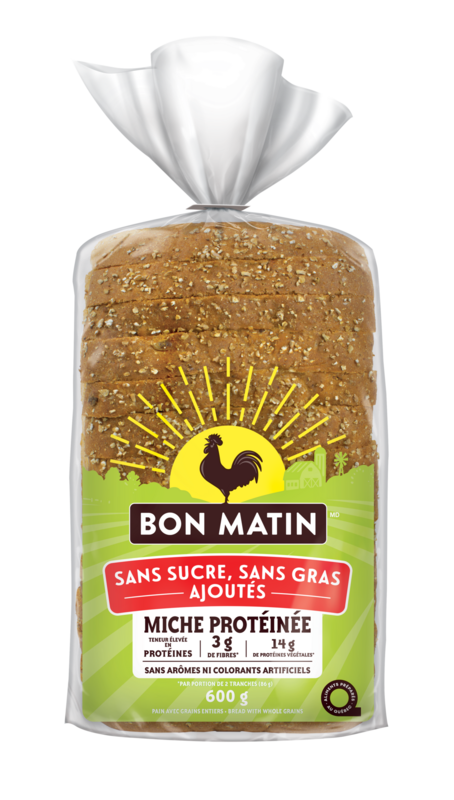 MADE WITH
Bon Matin® No Sugar, No Fat Added Protein Loaf
Ingredients
For assembling the sandwich
8 slices of Bon Matin® No Sugar No Added Fat Protein Loaf
For the shredded chicken
180 mL (3/4 cup) BBQ sauce
30 mL (2 tbsp) cider vinegar
15 mL (1 tbsp) brown sugar
1.25 mL (1/4 tsp) onion powder
1.25 mL (1/4 tsp) garlic powder
454 g (1 lb) boneless chicken breasts
For the cabbage and apple salad
60 mL (1/4 cup) plain Greek yogurt
30 mL (2 tbsp) chopped chives
15 mL (1 tbsp) maple syrup
15 mL (1 tbsp) lemon juice
10 mL (2 tsp) honey mustard
250 mL (1 cup) finely chopped green cabbage
250 mL (1 cup) Cortland apples, julienned
125 mL (1/2 cup) julienned carrots
Preparation
In a bowl, combine the BBQ sauce, cider vinegar, brown sugar, onion powder and garlic powder.
In the container of a slow cooker, combine the chicken with the prepared sauce. Cook on high for 3 hours or on low for 6 hours. After cooking, pull the chicken using two forks.
In another bowl, combine the Greek yogurt, chives, maple syrup, lemon juice and honey mustard using a whisk.
Pour the dressing over the cabbage, apples, and carrots and stir.
Top 4 slices of bread with pulled chicken and coleslaw. Close the sandwiches with the other slices of bread.

Tip:
Do you often eat chicken and would like something different? Well, you can also prepare this recipe with pulled pork. You just need to replace the amount of chicken with a roasted pork shoulder!