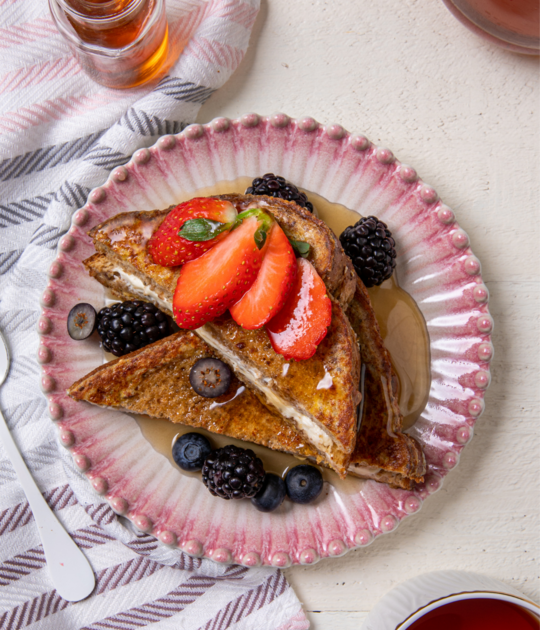 French Toast Stuffed with Cream Cheese
Here's a delicious French toast recipe with a twist as it's stuffed with cream cheese. The final result is very similar to the traditional French toast recipe. The Bon Matin Multigrain moelleux bread contains 9 g of fibre per serving (2 slices), which is a high source of fibre.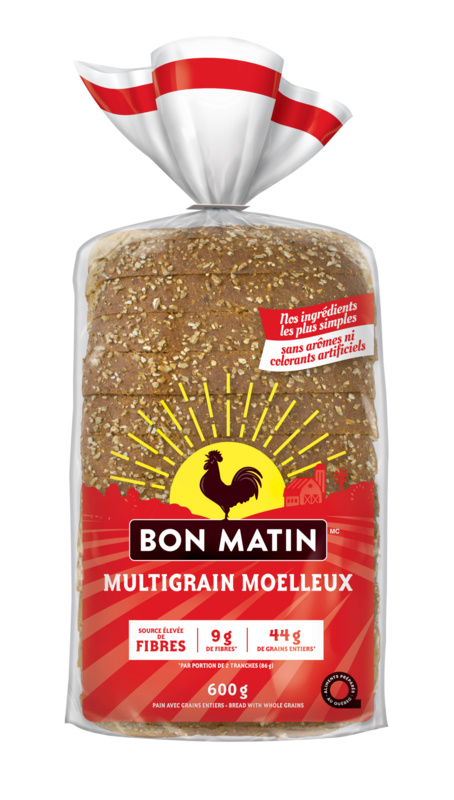 MADE WITH
Bon Matin® Smooth Multigrain Bread
Ingredients
8 slices Bon Matin™ Smooth Multigrain Bread
3 eggs
2 tbsp (30 mL) milk
1 tsp (5 mL) ground cinnamon
1/2 cup (125 mL) light cream cheese
2 tbsp (30 mL) butter
1 1/2 cup (375 mL) fresh berries (blueberries, strawberries, blackberries, raspberries, etc.)
1/2 cup (125 mL) of maple syrup
Preparation
Vigorously whisk the eggs, milk and cinnamon. Set aside.
Spread cream cheese on 4 slices of Bon Matin bread. Close sandwiches.
Preheat a large non-stick skillet over medium heat and add butter.
Dip the stuffed French toast in the egg mixture.
Then cook in hot butter, about 3 minutes per side.
Top the stuffed French toast with fresh berries and maple syrup. For a slightly higher protein breakfast, top the French toast with Greek yogurt.
Hubert's Tip: For a new recipe, try to stuff this French toast with aged cheddar cheese (inside) and fresh apples as a topping. A real treat, especially enjoyed with local maple syrup!