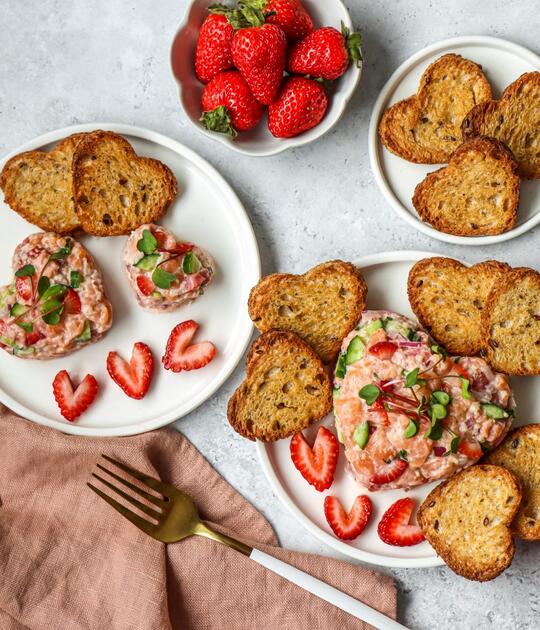 Salmon Tartare with Strawberries and Heart-shaped Croutons
Whether it's for a Valentine's Day treat or just to celebrate someone you love, this salmon strawberry tartare is always a delicious choice. Served with heart-shaped crisps made from organic Bon Matin® La Mie BIO™ thin-sliced 22-grain bread, this tartare recipe is as healthy as it is delicious… and romantic.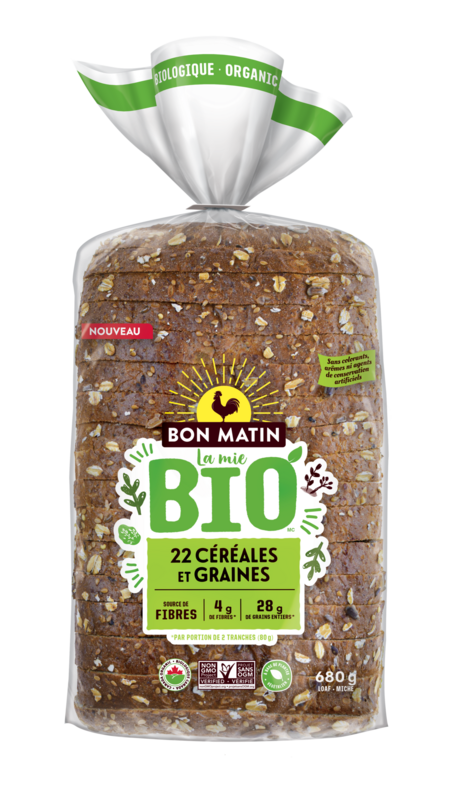 MADE WITH
Bon Matin® La mie BIO™ 22 Grains & Seeds Bread
Ingredients
Croûtons
8 slices of organic Bon Matin® La Mie BIO™ thin-sliced 22-grain bread
3 Tbsp. spiced oil
Tartare
450 g of fresh, good quality salmon, finely diced (keep refrigerated)
1/3 cup strawberries, finely diced
1/4 cup Lebanese cucumber, finely diced
2 Tbsp red onion, minced
2 Tbsp fresh basil, minced
1 Tbsp mayonnaise
1 tsp sriracha sauce
1 Tbsp panko breadcrumbs
1 tsp lemon juice
1 tsp lemon zest
1 drizzle of maple syrup
Salt and pepper, to taste
Preparation
Preheat the oven to 400°F.
Cut the bread into hearts with a heart-shaped cookie cutter.
Brush the bread pieces with oil.
Toast the bread pieces in the oven for 10 minutes until golden brown. Set aside.
Place all of the tartare ingredients in a bowl. Mix gently.
On a plate, place 1/3 of the tartare mixture in a cookie cutter to make a heart shape. Repeat with the rest of the mixture.
Serve with the bread crisps.