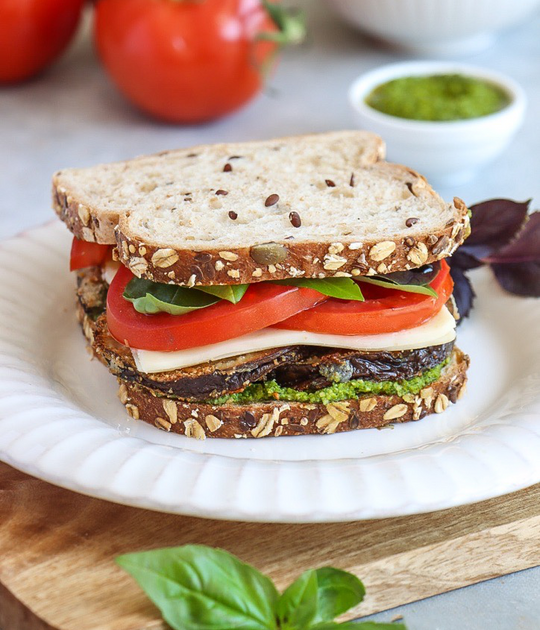 This scrumptious sandwich recipe offers typical Italian flavors. With crispy eggplant, mozzarella cheese and fresh basil leaves, it's a guaranteed success! Bursting with vegetables and freshness, these toppings pair well with Bon Matin® La mie BIO™ variety of nutritious whole grain organic breads. Now available thinly-sliced, this new Bon Matin® La mie BIO™ Thin Sliced 22 Grains and Seeds organic bread contains only 60 calories per slice, while being a source of fibre per 2 slices. Each thin slice contains 9g of whole grains!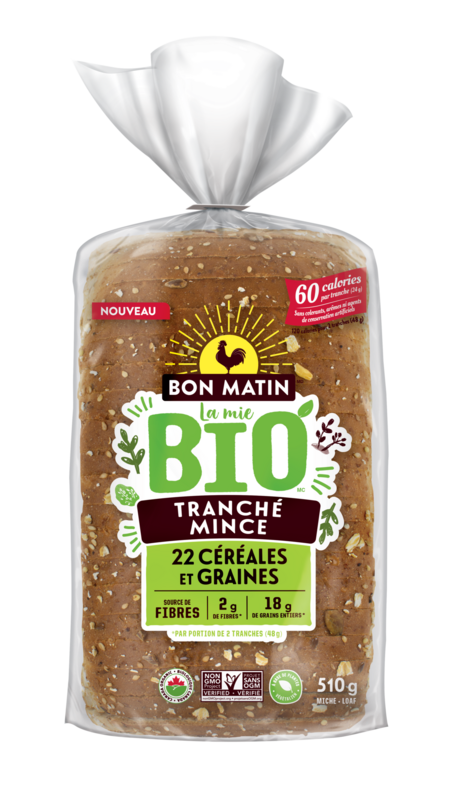 MADE WITH
Bon Matin® La mie BIO™ Thin Sliced 22 Grains & Seeds Organic Bread
Ingredients
For the crispy eggplant slices
1 beaten egg
60 ml (¼ cup) all-purpose flour
125 ml (½ cup) Italian breadcrumbs
60 ml (¼ cup) grated parmesan cheese
5 ml (1 teaspoon) Italian seasoning
2.5 ml (½ tsp) salt
1 eggplant cut into ½ inch slices (about 1.2 cm)
For assembling the sandwich
8 slices of organic bread Bon Matin® La mie BIO™ Thin Sliced 22 Grains and Seeds Bread
60 ml (1/4 cup) of pesto
Extra-virgin olive oil to taste
8 slices of fresh mozzarella
2 sliced tomatoes
60 ml (1/4 cup) balsamic vinegar reduction
Preparation
Preheat the oven to 220°C (425°F). Line a baking sheet with parchment paper or a silicone mat.
In a first bowl, place the beaten egg. In a second bowl, place the flour. In a third bowl, combine the breadcrumbs, Parmesan cheese, Italian seasoning and salt.
Dip each slice of eggplant in the egg, followed by the flour and then in the breadcrumb mixture. Lightly press the breadcrumbs on the eggplant slices so that the breadcrumbs adhere well.
Bake the eggplant slices in the oven for 20 minutes, making sure to turn them over halfway through cooking.
In a small bowl, combine the pesto and extra-virgin olive oil. Sometimes some pestos are thicker than others, so the amount of oil to add can vary depending on your preference.
Top half the bread slices with pesto, grilled eggplant, mozzarella slices, tomato slices and basil leaves. Drizzle everything with a balsamic vinegar reduction and close the sandwiches with the other slices of bread.

Tip: For even crispier eggplant, at the beginning of the recipe, sprinkle the slices with salt and let stand for 10 minutes. Dab the eggplant with a paper towel to absorb the expelled water and repeat this step with the other side of the eggplant slices.