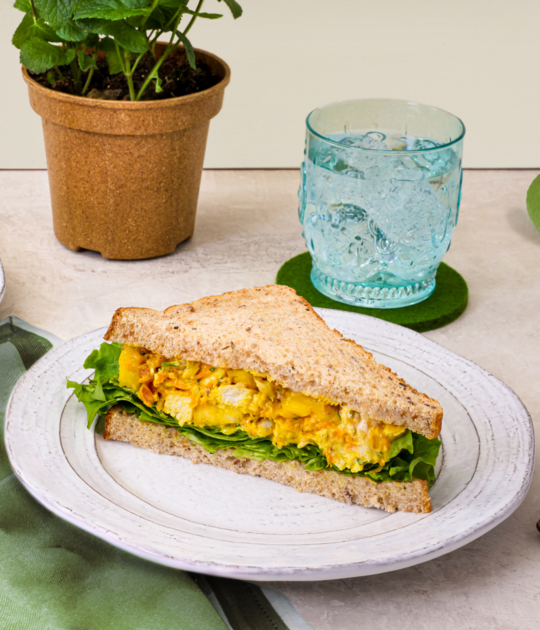 Chicken Salad Sandwich with Curried Pineapple
Chicken salad is a classic that can be eaten as is or served as a topping for sandwiches. It is usually prepared with crunchy vegetables, a little mayonnaise and, on occasion, raisins are added. The base is versatile and very easy to customize. Let's try a version that is as delicious as it is interesting from a nutritional point of view.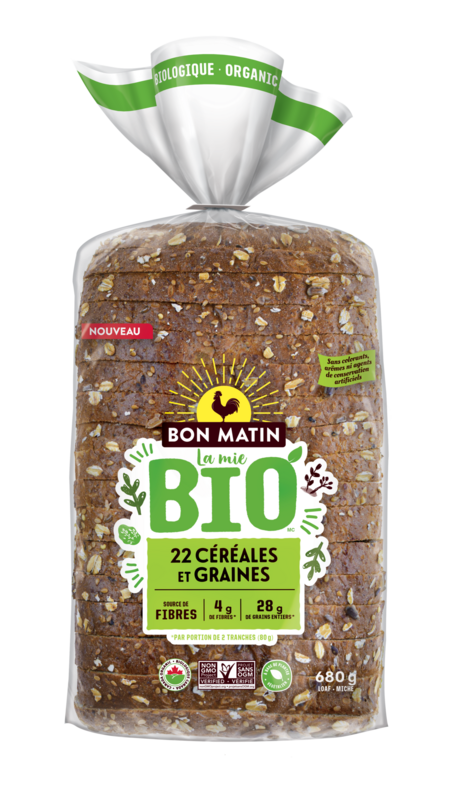 MADE WITH
Bon Matin® La mie BIO™ 22 Grains & Seeds Bread
Ingredients
8 slices of Bon Matin™ La mie BIO™ 22 Grains and Seeds Bread
300 g (2 cups) cooked and cooled chicken, diced
30 ml (2 tbsp) chives, chopped
125 ml (1/2 cup) plain Greek yogurt
125 ml (1/2 cup) mayonnaise
15 ml (1 tbsp) lime juice
15 ml (1 tbsp) honey
30 ml (2 tbsp) curry powder
2.5 ml (1/2 tsp) turmeric
2.5 ml (1/2 tsp) garlic powder
2.5 ml (1/2 tsp) onion powder
Salt and pepper, to taste
375 ml (1 1/2 cups) pineapple pieces
125 ml (1/2 cup) unsalted peanuts, crushed
1 small, grated carrot
4 leaves of curly lettuce
Preparation
In a large bowl, mix all the ingredients for the chicken salad. You can prepare the chicken salad in advance and put it in the refrigerator until it is served.
Top 4 slices of bread with lettuce and chicken salad. Close the sandwiches. Serve immediately.

Tip: Fruit in your main course? Yes! Fruits add character to your main course recipes by adding a sweet, crunchy and sometimes tangy touch. They are very versatile and can be prepared raw or cooked! In this case, pineapple adds vitamin C, a vitamin that has an antioxidant action which also promotes iron absorption.