Bon Matin® La mie BIO™ 100% Whole Grains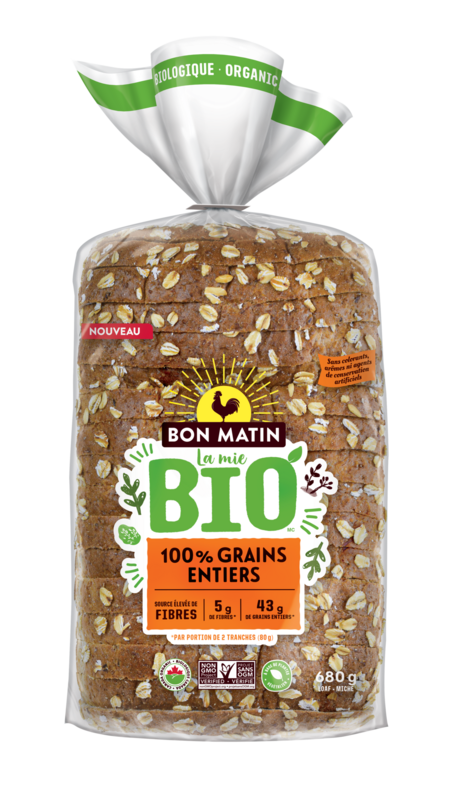 Organic
+
43 g of whole grains per serving
+
High source of fibre
* per 2 slice serving (80g)
Bon Matin® La mie BIO™ 100% Whole grain organic bread is soft and naturally delicious with a hearty 43g of whole grains per serving. This organic bread is baked with non-GMO project verified, plant-based ingredients for great taste you can feel good about. It contains no artificial colours, flavours or preservatives and is a high source of fibre.
Whole wheat flour*, Water, Wheat gluten*, Wheat sourdough* (water, fermented wheat flour*), Sugar*, Flax seeds*, Yeast, Rolled oats*, Canola oil*, Sea salt, Cultured wheat flour*, Vinegar*, Wheat germ, Citric acid, Xanthan gum, Salt. *Organic.

May contain: Tree nuts.
Note
Every effort is taken to ensure that the ingredients and nutritional information listed here is accurate, however, data may change from time to time. Please always check the package for the most current information.
Please note some products may not be available in your area. Please check with your local retailer.
Nutrition Facts
(80 g)

5 %

2 %

18 %

3 %

13 %

4 %

6 %

10 %

17 %

4 %

16 %

13 %

11 %

*5% or less is a little, 15% or more is a lot