Eating organic as a daily source of energy!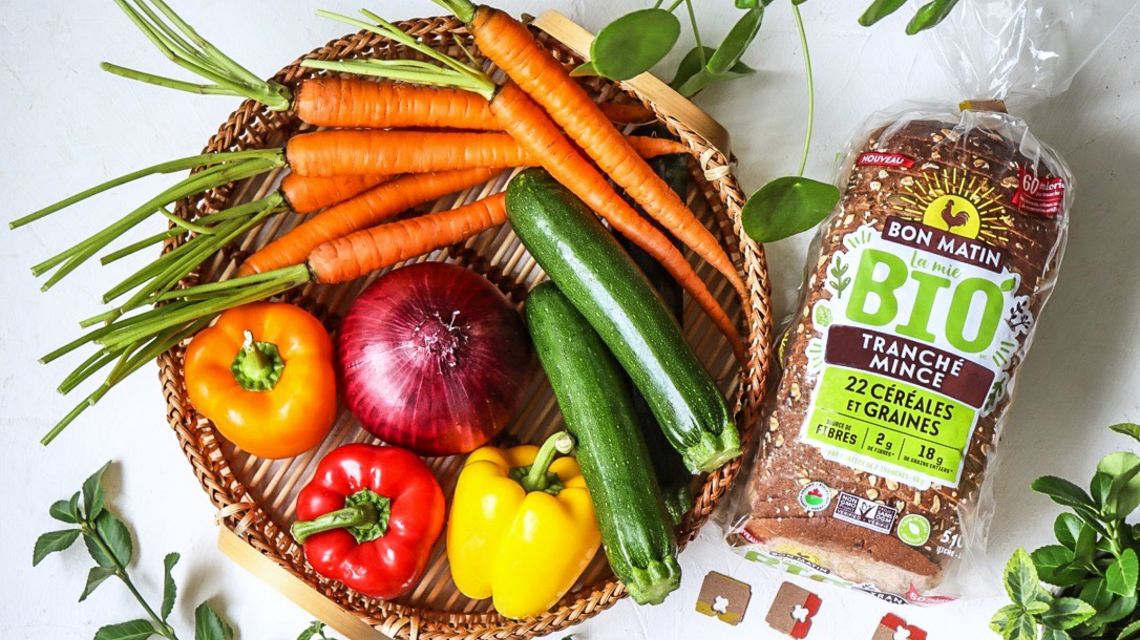 Organic food has been popular for several years: vegetables, fruits, eggs, poultry, meat, cereal grains, chocolate and several everyday products such as bread, juice and certain condiments are good examples. These are now readily available in supermarkets. Several food processors are following suit, such as Bon Matin, which has just launched the new Bon Matin® La mie BIO™ Thin Sliced 22 Grains and Seeds organic bread with only 60 calories per slice. Organic food claims to be healthier, nutritious, eco-friendly and tastier, but there are some unsuspected benefits that can also help improve your mood and energy levels. Let's look at this more closely.
Organic food and health
Although scientists don't all agree on the positive impacts on human health of eating organic, studies show that some organic products do contain higher levels of certain nutrients, including phosphorus and several other antioxidants. Since the effects on human health are not determined solely by the differences in the nutritional content of one food versus another, it is incumbent on us to ask the consumers who are the real experts on their own welfare.
Certainly, when surveyed, the participants of such studies agree on the environmental (i.e., the use of pesticides) and organoleptic (i.e. the superior taste of organic vs. regular foods) aspects. A study in the Netherlands showed that organic dieters reported better overall health. 70% of them admit to feeling more energetic and 30% say they see a positive effect on mental well-being. Feeling that they are making the right choice for them, and the health of the planet is good for morale!
Other perceived benefits include improved stomach and bowel function (24%), improved skin, hair and/or nails (19%) and improved satiety (14%).
Several hypotheses are put forward to explain why people tend to feel more energetic when opting for organic food. It is argued that the transition is often accompanied by fresher foods and several other changes in eating and lifestyle habits, while adopting a more active lifestyle.
Moreover, turning to organic foods already demonstrates a concern on the part of consumers for health and well-being. Consumers are more aware of their choice and organic food is just another step in their process. This often leads to so-called mindful eating. All of these changes can also affect the composition of the diet and the number of calories consumed. For example, one of the respondents confirmed eating less meat. People are therefore more careful about what they put on their plate.
In short, organic food consumption is often influenced by an overall healthier and more holistic lifestyle that includes healthy eating and exercise. These factors can help provide more energy.
Here are some inspirations for including more organic foods in your diet:
In short, if you make changes to your diet, be patient. It may take two to three weeks to see an improvement in energy levels. Organic food is therefore more part of a continuum of lifestyle improvement rather than a "prescription" guaranteeing immediate and miraculous effects. Do it first for yourself, your well-being, and the planet.
---
1  Smith-Spangler, C., Brandeau, M. L., Hunter, G. E., Bavinger, J. C., Pearson, M., Eschbach, P. J., ... & Bravata, D. M. (2012). Are organic foods safer or healthier than conventional alternatives? A systematic review. Annals of internal medicine, 157(5), 348-366.
2  Barański, M., Średnicka-Tober, D., Volakakis, N., Seal, C., Sanderson, R., Stewart, G. B., ... & Leifert, C. (2014). Higher antioxidant and lower cadmium concentrations and lower incidence of pesticide residues in organically grown crops: a systematic literature review and meta-analyses. British Journal of Nutrition, 112(5), 794-811.
3  van de Vijver, L. P., & van Vliet, M. E. (2012). Health effects of an organic diet—consumer experiences in the Netherlands. Journal of the Science of Food and Agriculture, 92(14), 2923-2927.
4  Goetzke, B., Nitzko, S., & Spiller, A. (2014). Consumption of organic and functional food. A matter of well-being and health?. Appetite, 77, 96-105.
Recipes to Discover